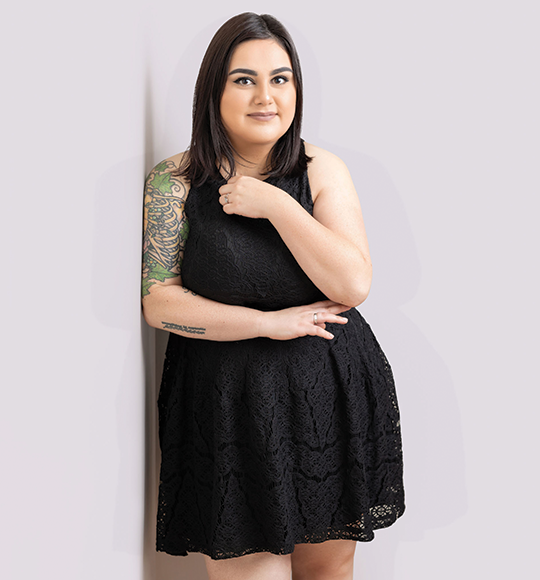 Legal Assistant
Samantha Lara
"I enjoy helping clients navigate their case with the utmost support and respect. I have witnessed firsthand the stress caused by family law matters from both a personal and professional perspective, but I also know there's a light at the end of the tunnel — and I cherish the opportunity to help others find it."
Meet Samantha Lara.
I was fortunate to grow up in the Bay Area of California, where I met a multitude of people from diverse backgrounds. From an early age, I've endeavored to help others in a caring, compassionate manner. I live by the phrase, "Always try to be nice, but never fail to be kind." I also have a fascination with true crime that compels me to consume any and all crime-driven content I can find. As a result, I've been drawn to the legal field for as long as I can remember, but I didn't always know exactly where I fit into that picture. My interests along with my enduring need to help others have led me where I am today.

When I originally started my studies, I set my sights on becoming an environmental law attorney, but it didn't seem like quite the right fit. Feeling lost, I was still searching for a direction that truly clicked when one of my professors brought a Paralegal in to speak to the class. Ten minutes into the presentation, I knew what I wanted to do with my life. That night, I unenrolled from the community college I was attending, and the very next day, I signed up for a Paralegal program. You could say the rest is history.

I accepted my first legal position as a file clerk at a well-established law firm in California. After almost two years, a legal process clerk role for my local court became available. I started out in the civil division and would constantly joke with coworkers that I would never work in family law…until I was transferred to the family division. After my transfer, which just so happened to coincide with my parents' ongoing divorce, I realized that I was exactly where I needed to be. My time within the family court system combined with my experiences navigating my parents' divorce and my significant other's custody matter gave me the push I needed to move into private practice without looking back.

As a legal assistant at Z Family Law, I enjoy helping clients navigate their case with the utmost support and respect. I have witnessed firsthand the stress inflicted by family law matters from both a personal and professional perspective, but I also know there's a light at the end of the tunnel — and I cherish the opportunity to help others find it.


Education
MTI College, A.A., Paralegal Studies, 2022