Collaborative Divorce

Your
Collaborative Divorce

Advocates

So — you've decided on divorce, but feel confident that you and your spouse can settle the matter amongst yourselves instead of entrusting a judge to decide your fate. For couples who wish to retain decision-making power during divorce, the collaborative route is a viable option designed to create a win-win situation for all parties involved.

Wherever you are in the divorce process, your team at Z Family Law is here to help you weigh your options, decide on the best path forward, and advocate for your interests every step of the way. If collaborative divorce is right for you, our qualified team of attorneys is here to guide you through the entire process — from assembling your collaborative team to finalizing your divorce documents and establishing a solid foundation from which to launch your next chapter.

SCHEDULE YOUR INITIAL CASE ASSESSMENT
What Is Collaborative Divorce?
A cooperative legal process that empowers you and your spouse to negotiate the terms of your divorce with minimal court involvement. In a collaborative divorce, the goal is to reach an agreement that reflects both parties' needs; there are no "winners" and "losers", because everyone is on the same team.

A central feature of the collaborative process is a participation agreement — signed by both spouses and the legal team — promising to keep matters out of court. The participation agreement also requires transparency throughout the process between the divorcing parties, who are free to communicate openly knowing that nothing they say can be used against them in court.

Collaborative divorce includes regular meetings with your team, during which you and your spouse will have the opportunity to identify shared interests, discuss long-term goals, and brainstorm ways to reach a mutually acceptable resolution. Collaborative divorce is often less stressful than litigation, and it provides a framework for resolving disputes and building positive momentum for the future.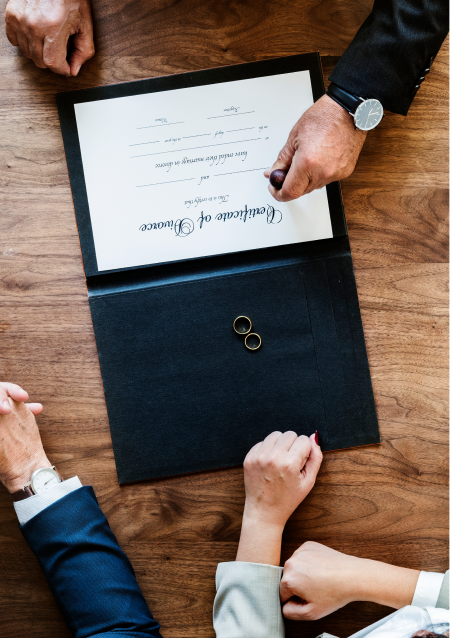 The ZFL Approach To Collaborative Divorce
Regardless of which path you choose, divorce is an emotionally-charged process. That's why we take collaborative divorce seriously, providing the quality representation and support you need to reach your goals. Along the way, we'll connect you with various trained professionals who comprise your collaborative team, including financial analysts, divorce coaches, and child specialists — depending on your family's needs. Guided by our comprehensive approach to collaborative divorce, we create cohesive experiences rooted in knowledge that address all aspects of your divorce and help you stay focused on the big picture.
Finding the Right
Collaborative Divorce Attorney

for You

As you navigate this challenging time, a trusted legal team who can help you make rational, well-guided decisions is essential. After all, when it comes to writing your new happily ever after, the importance of finding strategic and compassionate counsel focused solely on family law cannot be understated. By combining our vast legal experience, our tenured team can design a tailored strategy to help you take back your power and build the new beginning you deserve.

SCHEDULE YOUR INITIAL CASE ASSESSMENT