High Net Worth Divorce

Divorce Involving
Significant Assets
While divorce is rarely straightforward, when a marriage involves higher net worth assets, the potential for complications — and conflict — is also heightened. In other words: The more couples have to fight about, the more they stand to lose.

If safeguarding your assets during a divorce is a priority for you, it's a priority for us. At Z Family Law, we're here to help our clients protect their wealth through strong advocacy and a strategic analysis model designed to weigh the costs and benefits of every possible approach. Our experienced team will relentlessly pursue your interests, minimizing legal fees whenever possible and helping you stay focused on the ultimate goal: a new beginning that's financially secure.
SCHEDULE YOUR INITIAL CASE ASSESSMENT
Absolute vs. Limited Divorce:
In Maryland, there are two types of divorce: absolute and limited, distinguished by the grounds associated with each as well as certain accompanying legal and financial implications. A limited divorce is what you might think of when picturing a legal separation, meaning the marriage is still legally valid, the two parties may not remarry (until an absolute divorce is granted), and property is not divided by the courts or in accord with a pre or postnuptial agreement. On the other hand, an absolute divorce is entirely unequivocal. When a divorce is absolute, the marriage has officially ended, child support and custody are formalized, and assets are divided.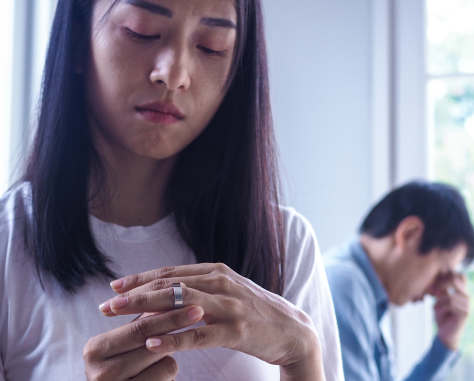 Grounds for Divorce
One of the more complicated aspects of divorce is choosing the grounds under which you wish to file. Ambiguity around how to decide is common, as is being served with papers that list an incorrect ground. In these types of cases, a no-fault divorce may be the best way to proceed, given that the couple has refrained from cohabitating for at least one year without interruption. Keep in mind that it is possible to file for an uncontested divorce under no-fault grounds, in which case the 12-month separation requirement would be waived, as long as you and your spouse have resolved all issues arising out of your marriage, a formal separation agreement has been signed, and neither party has filed to set it aside.
Factors in High Net Worth Divorce
In high net worth divorce matters, financial implications can extend far beyond the division of assets itself. When dealing with significant or complex assets, couples often encounter the following issues:
01
How the couple's income and assets affect child support determinations.
02
How the couple's income and division of assets during divorce may influence the decision to grant alimony and the amount awarded.
03
In-depth valuation of assets, including business interests.
04
In-depth valuation of assets, including business interests.
05
Concealment or loss of assets.
06
The impact taxes will have on the allocation of applicable assets.
07
How a prenuptial or postnuptial agreement might affect alimony and the distribution of marital assets.
08
How a court will treat exotic assets, including executive compensation plans, intellectual property, lottery winnings, trusts, and more.
09
How ownership can alter asset distribution.
Beyond these nuanced issues, couples with significant or complex assets will also face the standard property distribution concerns all divorces entail.
Proving Our Worth In High-Asset Divorce Cases
In the world of high net worth divorce, strategy matters more than ever before. That's why our tenured team of attorneys champions a tactical approach to successfully resolve these types of complex cases and ensure your financial future is secure. With the knowledge that our clients' financial interests are often best served outside of the courtroom, we will work to reach the best settlement for you rather than relying on a drawn-out, costly court battle that consumes your hard-earned time and resources. And when going to court is the answer, ZFL attorneys bring decades of experience litigating high net worth divorces, offering the competitive advantage our clients need to reach their goals.

Finding the Right
High Net Worth Attorney

for You

As you navigate this challenging time, a trusted legal team who can help you make rational, well-guided decisions is essential. After all, when it comes to writing your new happily ever after, the importance of finding strategic and compassionate counsel focused solely on family law cannot be understated. By combining our vast legal experience, our tenured team can design a tailored strategy to help you take back your power and build the new beginning you deserve.

SCHEDULE YOUR INITIAL CASE ASSESSMENT