LGBTQ Divorce and Separation

The
Divorce Attorneys

Working for Your LGBTQ Family

In Maryland, same-sex marriage between any two consenting adults has been legal since 2012, when it was legalized by referendum. A few years later, in 2015, the Supreme Court made same-sex marriage legal throughout all 50 states with their ruling in Obergefell v Hodges. This development renewed the importance of addressing a multitude of questions about how the marriage of LGBTQ couples would impact adoption, divorce, separation, parental rights, child custody/support, and more. And since there's no one-size-fits-all answer to these nuanced legal matters, the solutions will always be tailored to the individual families involved, while accounting for Maryland's marriage and divorce laws.

At Z Family Law, our goal is to provide trusted legal guidance that gives our clients clarity and confidence during times of uncertainty. Powered by experience and compassion, our qualified team of divorce attorneys will guide you toward your family's new beginning by putting your needs and goals first.

SCHEDULE YOUR INITIAL CASE ASSESSMENT
Family Law for LGBTQ Families
For LGBTQ families, family law can encompass a variety of relationships and circumstances beyond traditional domestic bonds. Whether your family needs assistance welcoming new members, protecting valuable familial connections, or creating up-to-date child support structures, our team has the legal knowledge and resources to find personalized solutions that benefit every lifestyle and circumstance.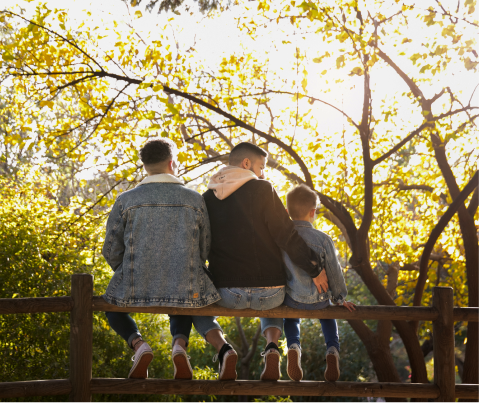 Divorce for Same-Sex Couples
Divorce is never easy, but it can be even more complicated for same-sex couples who decide to go their separate ways. Not only does our team of qualified attorneys understand the unique pressures facing same-sex couples who want an LGBTQ separation, but we also know how to navigate and minimize many of the challenges and complications that can arise along the way.

Our in-depth knowledge of family law means that we can effectively apply any existing legislation to your personal situation to ensure every member's rights are respected and preserved. We're passionate about leveraging our vast family law experience to handle a diverse array of LGBTQ cases, and our track record speaks for itself: We have decades of practice helping same-sex couples like yours find equitable solutions.
We routinely handle complex LGBTQ divorce case concerns centered around:
Divorce Litigation
Divorce Mediation
High Asset Divorce
Business Owner Divorce
Collaborative Divorce
Separation Agreements
Alimony
Asset Division
Child Custody Disputes:
LGBTQ Couples Going Through Divorce
Child custody disputes among LGBTQ couples can arise, among other reasons, due to the lack of legal recognition of both partners as legal parents if previous legal action was not taken to ensure that parental status of each party. In these cases, the court may only recognize one parent as the legal parent of the child, which can be a source of contention. In some cases, both parents may not be listed on the birth certificate or adoption agreement, or one parent may not have been legally acknowledged as the child's parent. This can leave the non-biological parent without legal parental rights and make it difficult for them to participate in decisions regarding the child's upbringing. Even if the non-biological parent has been involved in the child's life, they may not have the same legal rights as the biological parent. Steps can be taken to ensure legal parenthood for both parties, but ideally this is done well in advance of the process of seeking child custody.

The court will typically make decisions about the child's legal and physical custody arrangements based on what's in the child's best interests. The court may consider the child's emotional and physical well-being, the relationship between the child and each parent, and the ability of each parent to provide a stable home environment, among several other factors. When the court is determining custody in an LGBTQ divorce, they may also order shared parenting plans, in which both parents have equal authority and responsibility for the child.
Finding the Right
Divorce Attorney

for Your LGBTQ Family Law Needs

As you navigate this challenging time, a trusted legal team who can provide proper legal advice to help you make rational, well-guided decisions is essential. After all, when it comes to writing your happily ever after as an LGBTQ individual, the importance of finding strategic, compassionate legal counsel focused solely on family law cannot be understated. By combining our vast legal experience, our tenured team of attorneys can design a tailored strategy to help you take back your power and build the new beginning you deserve.

SCHEDULE YOUR INITIAL CASE ASSESSMENT