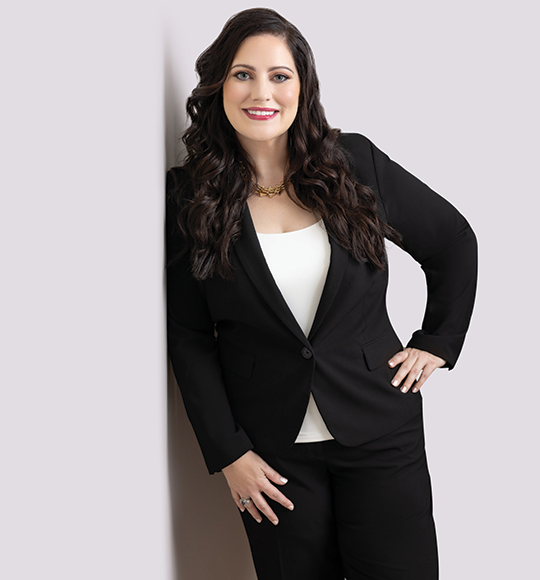 Founding Attorney

Christy A. Zlatkus, Esquire

"I built Z Family Law on the belief that we all have the power to turn our most trying challenges into renewed opportunities."
Hello, I'm Christy A. Zlatkus.
For as long as I can remember, I've been invested in the impact family dynamics have on our lives. Maybe it was watching friends of mine deal with the divorce of their parents growing up or my enduring belief in the importance of having a reliable support system to lean on, but along the way, guiding families throughout times of transition became my life's calling.

Prior to starting Z Family Law, I graduated from the University of Maryland with two Bachelor of Arts degrees in May 2006 and then went on to pursue my Juris Doctor from George Washington University. With law school behind me, I served two years as a judicial law clerk to the Honorable Sherrie L. Krauser in the Circuit Court for Prince George's County, Maryland, before transitioning to another family law firm, where I spent eight years.

It was at this point in my career when, for reasons both personal and professional, I recognized the need for a different kind of family law firm, one dedicated to building strong families through compassionate, steadfast counsel with a focus on keeping a positive mindset through challenging times. Fittingly, in large part, this realization came in the aftermath of a momentous family transition of my own. For years before, I had been in a devoted, long-term relationship that I knew was headed for "I do." Suddenly, however, instead of preparing to walk down the aisle, I found myself unexpectedly navigating a breakup and trying to put the pieces of my life together again — without the comfort of my seemingly assured happily ever after to rely on. A pivotal moment in my journey to reclaim independence appeared unexpectedly at lunch with a friend, who, rather than mirroring the sorrow others reflected back at me, instead chose to reframe what I had only viewed as a hardship and do the unthinkable: congratulate me. "I can't wait to see what you do next!" she exclaimed. The idea that such a heartbreaking upheaval could actually be the catalyst for an even brighter future ahead was life-altering. As it turns out, my friend's optimistic take was exactly the spark I needed to rebound and re-emerge as a stronger version of myself.

Powered by this impactful shift in mindset, I began a new lease on life, embracing the ability to again make decisions that were all my own, decisions like: moving to a different county, bringing home a few furry friends, and finally buying the blue plates that I had always wanted around my table. Suffice it to say, whatever family transition my own clients are going through, I know firsthand that the most daunting roadblocks can also be your chance to have the life you truly want. Sometimes, all it takes is a blue plate to see the possibilities.

While the blue plates in my kitchen today are still a hopeful symbol of that transformative turning point, they aren't the only product of my reimagined outlook. Motivated by the emboldened philosophy I adopted post-breakup, I officially launched Z Family Law, a firm built on the belief that we all have the power to turn our most trying challenges into renewed opportunities. By giving every client the guidance and support of a trusted team, I also aspired to eradicate the stigma that too often surrounds divorce, single parenting, and other family law matters as a whole — one family at a time.

Today, I've assembled a qualified team that empowers every client to make informed decisions about their future when it matters most — driven by a clear understanding of the process from start to finish. Together, we help families restructure and grow during times of uncertainty, arming each of our clients with the emotional, financial, and legal tools necessary to safeguard their legal interests and pursue their life goals. At Z Family Law, we match the passion and knowledge we bring to our work with a defining emphasis on the client journey. The way we see it, in a discipline as personal as family law, it's our responsibility to get to know the people at the heart of each case, tailor the resulting strategy to their distinct needs, and inspire every client to recast themselves as the leading character in their own story.

Since our firm's mission is one that brings people together, it's no surprise that many of our attorneys, administrative professionals, and customer service specialists alike chose ZFL because of a personal connection with family law or even to each other (case in point: our very own Megan Parlette is a lifelong best friend of mine). This shared belief in what we do only strengthens the commitment each team member has to our firm and its clients.

As an extension of my role as the firm's Founder and CEO, I'm committed to finding strategic, effective solutions for the families I serve. To that end, I'm licensed to practice in Maryland, and am a member of the Bar Association of Montgomery County, the Bar Association of Frederick County, and the Maryland State Bar Association. In addition, I was selected to join the prestigious Montgomery County, Maryland Bar Foundation Bar Leaders in 2016. I also participate in the Montgomery County, Maryland American Inn of Court and was a member of the 2016-2017 Bar Association for Montgomery County's Maryland Leadership Development Academy. Since 2018, I've been licensed to practice in the District of Columbia, and in 2017, I was admitted to practice in the United States Supreme Court.

Of course, I wouldn't be where I am today without all the people who have helped me along the way, which is why I give back to the family law community every chance I get. My extracurricular pursuits include: serving as a former co-chair of the Montgomery County Bar Foundation's Continuing Legal Education Committee, creating an Advanced Litigation Symposium, teaching basic family law training courses, and supporting sitting judges in Montgomery County, where the bulk of my cases unfold.

At the end of the day, there are a multitude of amazing attorneys working throughout the DC Metro Area, and I truly want every family to find the right fit for their needs. The people that choose to work with my team? They're seeking a dedicated partner who will be by their side throughout the entirety of their case and beyond. No matter what family transition you're facing, know this: whether it means settling before trial or bringing your case all the way to the Supreme Court, with my team here to guide you, the best is yet to come.

When I'm not working for my clients or supporting the family law community, you can find me messing around in my kitchen with new recipes, curling up with a good book, hosting friends and family for dinner parties, working out, and spoiling my two American Cocker Spaniels, Lily and Hannah and my two cats, Chloe and Emma. A current resident of Rockville, I first visited the DC area in 5th grade to march for dolphin-safe tuna, and knew it would be my home someday. 7 years later, I officially made the move, and I haven't left since!


Education
George Washington University School of Law, J.D., 2009
University of Maryland College Park, B.A., History; B.A., Government and Politics with High Honors, 2006
Bar Admissions
Maryland, 2009
District of Columbia, 2018
United States District Court for the District of Maryland, 2017
Supreme Court of the United States of America, 2017
Special Training
Trained Parent Coordinator
Trained Child Counsel (Child Advocate Attorney, Best Interest Attorney, Child Privilege Attorney)
Trained in Collaborative Law
Trained Mediator (Child Custody and Property)
Graduate of the Family Law Trial Advocacy Institute (ABA/NITA)
Awards & Honors
Super Lawyers Rising Stars, 2015 - 2019
Super Lawyers, 2020 - 2023
Bar Foundation of Montgomery County, Bar Leaders (2016-Present)
Memberships & Professional Affiliations
American Bar Association
Maryland State Bar Association
Bar Association of Montgomery County, Maryland
Bar Association of Frederick County, Maryland
District of Columbia Bar
Women's Bar Association of Maryland
CLE Committee for the Montgomery County, Maryland Bar Foundation (Committee Co-Chair 2018-2022)
Montgomery County, Maryland Inn of Court
Bar Association of Montgomery County Leadership Development Academy (2016-2017)
Montgomery County, Maryland Bar Foundation, Bar Leaders (2016-Present)
Hague Convention Attorney Network