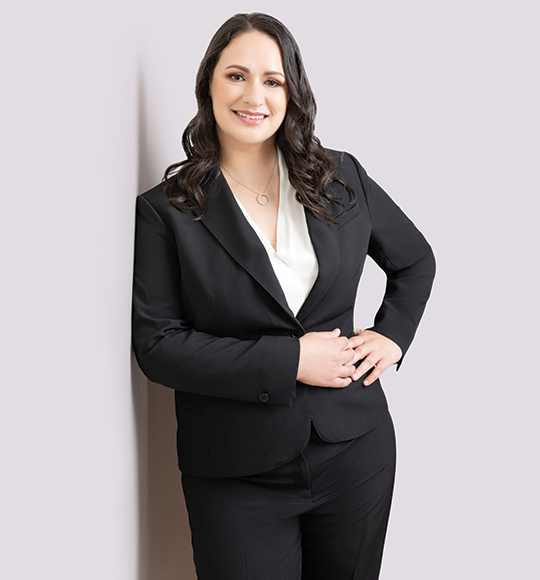 Director of Operations

Megan Parlette

"I love being part of Z Family Law because I have the opportunity to support our clients... through their family law proceedings"
Hi. I'm Megan Parlette.
When I first entered the world of family law, I realized just how unusual my experiences growing up in two households had been. My parents divorced when I was in elementary school — an event that, in hindsight, they handled remarkably well. At multiple points throughout my career, I've reflected on their break up and how their level-headed attitudes and actions kept me far removed from the middle of their divorce. They allowed me to work through a complex transition without pushing their own fears, anxieties, or agendas on me.

As Z Family Law's Director of Operations, I pay my parents' sanity forward to our clients through their most challenging times. After working with Christy at a small family law firm for three years, I formally joined Z Family Law's staff in January 2019 because I connected with the firm's vision: To provide client-oriented, compassionate legal representation. Today, I help bring this vision to life by serving as the backbone of Z Family Law's day-to-day operations, a role in which I oversee the operations team, manage the employee lifecycle, help craft new business strategies, and everything in between.

My connection to the firm is both personal and professional; Z Family Law Founder Christy Zlatkus is not only one of my closest friends, but one of the most inspirational leaders I have ever met. Our camaraderie and deep friendship has set the tone for our firm's warm, supportive culture.

At the end of the day, I love being part of Z Family Law because I have the opportunity to support our clients through some of the most painful, challenging situations they will ever encounter. I take pride in the ability to offer guidance — whether it's operational or emotional — during uncertain times, and to help our clients navigate their family law matters with clarity and confidence.
Education
University of Maryland College Park, B.S., Zoology, 2006